Introduction to Database Design
---
Major Steps in Database Design
Requirements Analysis: Talk to the potential users! Understand what data is to be stored, and what operations and requirements are desired.
Conceptual Database Design: Develop a high-level description of the data and constraints (we will use the ER data model)
Logical Database Design: Convert the conceptual model to a schema in the chosen data model of the DBMS. For a relational database, this means converting the conceptual to a relational schema (logical schema).
Schema Refinement: Look for potential problems in the original choice of schema and try to redesign.
Physical Database Design: Direct the DBMS into choice of underlying data layout (e.g., indexes and clustering) in hopes of optimizing the performance.
Applications and Security Design: How will the underlying database interact with surrounding applications.
---
Entity-Relationship Data Model (ER)
---
ER diagrams
It is often helpful to visualize an ER model via a diagram. There are many variant conventions for such diagrams; we will adapt the one used in the text.
diagram conventions
diagram example (Figure 2.1 of text)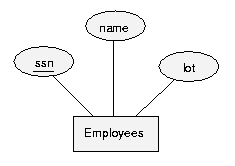 ---
Relationships
---
Specifying additional constraints
---
Conceptual Design with the ER Model
It is most important to recognize that there is more than one way to model a given situation. Our next goal is to start to compare the pros and cons of common choices.
---
Michael Goldwasser